↓ Watch the video below ↓
Schedule a Free Consultation Call Today
Discover how we can help you overcome, the latest payment challenges.
As the world moves towards digitalization, more businesses are conducting their transactions online. If you're in business, it's important to be able to accept payments online. However, you may not have a website for your business yet. Fortunately, there are still several ways that you can accept online payments without a website.
Use an Online Payment Processor
Many online payment processors allow you to accept payments without a website. PayPal is one of the most popular options, and there are also others such as Square, Stripe, and 2Checkout. These services typically allow you to create a payment button or link that you can then share with your customers. When they click on the button or link, they'll be taken to a page where they can enter their payment information and complete the transaction.
Send an Invoice
Invoicing has always been a popular way to request payments, and with the rise of online invoicing tools, it's now easier than ever to do. With an online invoicing tool like FreshBooks or Wave, you can create and send professional-looking invoices in just a few minutes. Your customers can then simply click on a link in the invoice to pay online.
Payment apps
Several mobile apps allow you to accept payments without a website. These can be handy if you're selling products or services in person and don't have a way to process payments on the spot. Square is one option that offers a free app for iOS and Android devices, and there are also others such as Google pay, Amazon pay, Apple pay, etc. All you have to do is connect your bank account to the app and you'll be able to start accepting payments.
Use a QR codes
If you have a physical product that you're selling, you can use a QR code to allow customers to pay for it without a website. QR codes are those black-and-white squares that you can scan with your phone. You can create a QR code that links to your payment page, and then customers can scan the code and be taken directly to the page where they can enter their payment information. QR codes are extremely fast and convenient, and they don't require customers to have a specific app installed.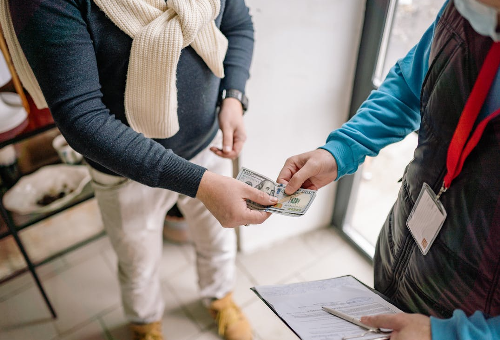 Accept payments by email
Another option is to simply accept payments by email. This can be as simple as sending your customer an email with a link to your payment page. Or, you could use a service like Pay Loom, which allows you to send invoices and request payments via email. Your customers can then click on a link in the email to complete the payment.
Conclusion
No matter what method you choose, it's important to make sure that your payment page is secure. This means that it should have an SSL certificate and be hosted on a secure server. Do your research and choose a reputable payment processor that will keep your customers' information safe. By taking these precautions, you can ensure that your online payments are processed safely and securely.
If you are looking for a secure payment solution for your business, then look no further. We specialize with many years of experience in providing robust payment solutions for businesses of any size. We only use up-to-date technologies to keep you updated with the latest trends. This way we ensure to give your customers the best possible experience. Visit us at Facilero.com to book a free consultation call with us today, and let us take your business to the next level!
Book a free call with us to discuss how we can help you expand in new regions, scale, and get the cash flowing in your business.